Celluma Vice President for Global Brand Management Denise Ryan Nominated for 2023 Orange County Business Journal's Women in Business Award
August 27, 2023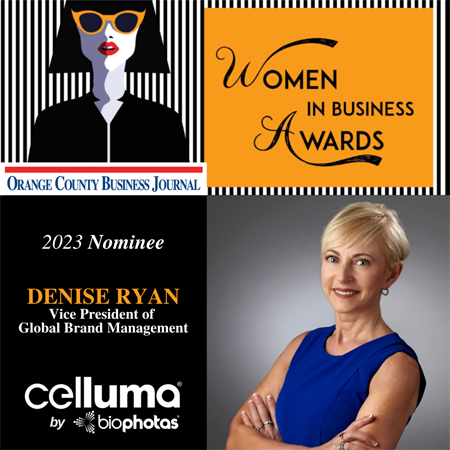 Tustin, Calif. – August 24, 2023 – The Orange County Business Journal recently nominated Denise Ryan,  BioPhotas' Vice President of Global Brand Management, for its 2023 Women in Business Award. The 29th annual Women in Business Awards recognizes five outstanding professional women making significant  contributions to not only their organizations but to the Orange County community as well.  
The Journal's nomination sums up Denise's contribution to the origins of Celluma Light Therapy perfectly.  "Denise was employee number two at BioPhotas, Inc. Her first role was director of marketing and  sales. Her responsibilities included hiring and training the initial sales force and creating the  marketing strategy for BioPhotas' flagship LED Light Therapy product, the Celluma PRO. As a  result of her successful marketing and strategies, BioPhotas experienced increasing domestic and  clinical acceptance of LED Light Therapy and growing sales. In addition, BioPhotas emerged as a  market leader and Ryan was promoted to Vice President of Brand Management. As BioPhotas  expanded into international distribution, continued to sustain its clinical market leadership, and  increased its presence within the direct-to-consumer market, Ryan moved into the role of Vice  President of Global Brand Management. Ryan is now responsible for all aspects of domestic and  worldwide branding for the clinical and direct-to-consumer markets." 
"Denise earned her Doctorate in Traditional Naturopathy early in her career. Using her  understanding of the science of light therapy, along with her marketing and educational abilities,  Denise has brought a clear professional voice to the Celluma brand, building the BioPhotas  success story," said BioPhotas President and CFO, Curtis Cluff. "Beyond her many contributions  to the brand, she has really had a profound impact on the medical and aesthetics industry, helping  to shape the common understanding and use of light therapy on its own, as well as an adjunct to  just about every invasive and non-invasive treatment." 
"The pool of nominees represents some of the most amazing women in Orange County and it is an honor to  be included among them for consideration in the 2023 Women in Business Awards," said Ryan.  
Winners will be announced at the annual awards luncheon on October 5, 2023. For more information about  the 2023 nominees, visit Women in Business Awards 2023 - Orange County Business Journal (ocbj.com)